» Our History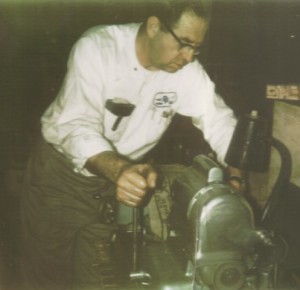 In 1965, Charles "Charlie" Baker, at 40 years old, fulfilled his dream of starting his own automotive machine shop. He and his wife began in a two car garage behind his home with a portable boring bar and a portable crankshaft grinder. Soon a part time employee was needed and valve equipment was added. They soon needed much more space. A 40×60 building was erected in 1967 at the current location.
By 1972, the company was out of space again, and a 60×120 addition was added. With new equipment and even more employees, C&P was quickly becoming the largest automotive machine shop in the Fort Wayne area. In 1983 C&P expanded once again. Along with being one of the largest automotive machine shops around it also became a large engine parts warehouse. This was followed by two more expansions in 1987 and 1992. They filled the new building with additional precision equipment and skilled employees to run them.
Today, C&P Machine has over 20 experienced employees and 25,000 square feet of machine shop and engine parts warehouse space. We have a wide variety of engine rebuilding equipment capable of handling all your engine needs whether they are automotive, agricultural, marine, or industrial. Our parts department warehouse distributes a wide array of quality engine parts to fit a large range of applications. C&P Machine has become the largest custom engine rebuilder in the tri-state area.
The dedication of the employees of C&P Machine has allowed this locally owned family business to grow through the years, and continue to offer the quality service our valued customers have grown to expect. Thank you for visiting our web site. We are looking forward to serving you in the future as we start our third generation at C&P Machine.